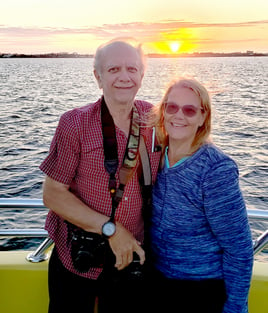 Susan and Roger Guilmain met on a blind date while undergrads at the University of Rhode Island. Now, 51 years later, they've raised four children together and enjoyed successful and fulfilling careers: Susan as an occupational therapist and Roger as a medical physicist, and later, a high school physics teacher and small business owner.

Their life was, and still is, full of joy and happiness. However, Susan noticed that Roger was having more and more difficulty remembering things. So, they began a journey that's taken them through difficult times but also ultimately it has given them hope, not just for themselves but for others.

"We both worried about having some memory issues, so when I saw some advertisements for the POINTER Study at Butler Hospital, I thought it would be interesting to participate," says Susan. "I asked Roger if he wanted to sign up with me. I already had questions in my mind about his memory at that point and so did he."
Testing and a Diagnosis
"In the preliminary screening for POINTER, they found that the diet we eat was too close to the diet that was being tested as part of the study, so we weren't candidates. But the screening process also showed that Roger already had significant memory loss as well, and the study team recommended that he get formally tested," Susan recalls.

Susan and Roger returned to the Memory and Aging Program (MAP) at Butler Hospital so Roger could undergo diagnostic testing. The testing showed that he was among the approximately 12-to-18 percent of people aged 60 or older living with mild cognitive impairment (MCI).1

"I had a lot of questions because I was seeing these symptoms happening, but he was in denial, and it was scary at first," says Susan. "But [the MAP team] were so good about talking with us throughout the process, and I had contacts there that could answer my questions as they came up. It relieved my anxiety and put me on a good track toward the next steps."

The care team recommended Roger follow the DASH diet, stop taking sleeping pills, and get outdoors to exercise more. Susan and Roger did all those things together and Susan says it seemed to make a big difference.

Qualifying for a Study
Then, Roger qualified to participate in the LINE-AD study, which evaluates the safety and tolerability of Emtricitabine (FTC, Emtriva©, Gilead) in treating individuals with mild cognitive impairment (MCI) or mild to moderate Alzheimer's. Over the course of a year, Susan says Roger's condition remained stable.

"He did really well on the medication in that study. So well that he was able to go back to substitute teaching, part-time. There are still some symptoms that I see but he's stable now."

Seeing Positive Results
Susan says that participating in the study wasn't only beneficial because of the medication.

"We would go [to the MAP office] once a month to get the pills and they would look for any side effects and do a neurological check. We both looked forward to those visits because everyone was so welcoming and supportive. It also gave us time to get a little more information about his condition, and to be in a place where everyone was so accepting and free to talk about the challenges we were facing."

Roger has now finished his participation in the study, but the MAP team is currently working to see if he can continue taking the medication, given the positive results he experienced. While Susan is hopeful Roger will be able to continue the medication, but says she's, regardless, she is so grateful for the experience.

"Without this study, we wouldn't have even known where to start. Anything we could do to prevent his symptoms from getting worse, of course, we were all about that. But we also felt like the concern of the staff and the care was so helpful as well. And we want to be able to help others too."

Hope for the Future
"We've seen Roger's mother and my parents go through memory issues. When you live to your 80s and 90s it happens, so to have the knowledge of what can minimize that is so helpful," Susan continues. "We're all getting older and the more we know about memory, Alzheimer's, and dementia the better we're all going to be. I think [dementia] affects everybody, whether a relative has it, or you're a caregiver or one day you will also have issues. We are so glad the Memory and Aging Program and others here in Rhode Island are at the forefront of so many different research options."

"For us, being part of research allowed us to help others but it was also our path to getting a diagnosis for Roger and learning more about his status and what we could do to try and slow this disease. I hear of people who have such trouble getting a diagnosis or knowing what to do, what the next steps should be; participating in research gave us the opportunity we needed to access all of that, and it has really made a big difference."



Disclaimer

: The content in this blog is for informational and educational purposes only and should not serve as medical advice, consultation, or diagnosis. If you have a medical concern, please consult your healthcare provider, or seek immediate medical treatment.



1 Alzheimer's Association Special Report – More Than Normal Aging: Understanding Mild Cognitive Impairment